Great Barrier
Reef to Vanuatu
SUN, OCT 26 – SUN, NOV 09 2025
It may be difficult to imagine a 6-star experience, but that is what you'll receive aboard Scenic Eclipse II. It starts with the all-inclusive nature of the ship. Except for a few rare and vintage spirits—and tours on the two helicopters and the submarine, Scenic Neptune II—everything is included.
The Eclipse II's international staff is arguably this discovery yacht's biggest asset. Everyone is extremely friendly and knowledgeable. Most importantly, this team of professionals is eager to make our 14-day voyage the most memorable cruise of your life. The suites vary in size and amenities, but all include spacious balconies and butler service. Shore tours with local guides are included at each port. Balinese sunbeds are available, in addition to traditional sun loungers. Molecular gastronomy cooking classes with the chef, and delectable wine and cheese pairing with the sommelier, are standard fare on Eclipse yachts. The Scenic Bar has whiskey tasting, featuring over 130 varieties from around the globe. A tour in the helicopter and submarine, and dining with the officers and discovery crew, are the icing on the cake of this incredible 6-star experience.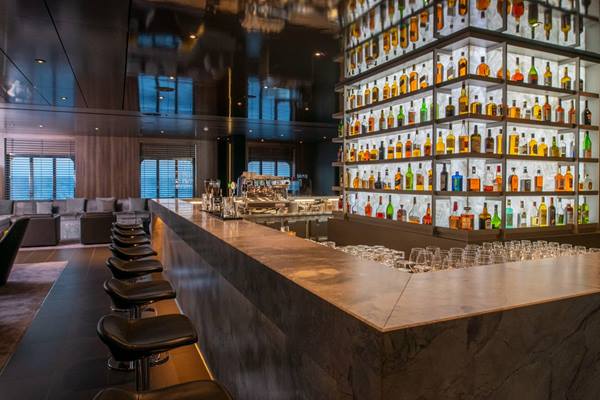 Working with Scenic we've created a unique itinerary for this charter, visiting locations along the Great Barrier Reef, New Caledonia and Tanna, Vanuatu, that only a yacht of this size can reach. We also have enough sea days to get acquainted with the ship, enjoy relaxing aboard, make plans for activities ashore. And, of course, there will be ample time to get to know the best bare cruisers in the world. It all begins the day of embarkation with an unforgettable sail away party with cocktails and music leaving port at sunset. Discover the ship with a tour on the first sea day. Attend the captain's welcome aboard and visit the bridge. Learn about the ports and tours at the enrichment lectures and excursion talks. Experience all the classes, amenities, and activities this amazing ship has to offer.
Scenic Eclipse II is the ultimate luxury Bare Bucket List cruise adventure. Don't miss it!
Immersive Onshore Exploration
All-Inclusive Services & Amenities:
As always, it's our pleasure to provide you with the luxury of deciding what NOT to wear.
LUXURY, AT PORTS AND ONBOARD
The Scenic Eclipse II is one of the World's First Discovery Yachts™ and sets the benchmark in ultra-luxury ocean cruising. It combines innovative design and state-of-the-art technology with unrivaled discovery for 228 pampered guests. Enjoy enhanced ultra-luxury spaces, new culinary experiences and unmatched exploration as you soar above by helicopter and dive below in the custom-built Scenic Neptune II submarine.
Great Barrier Reef to Vanuatu Begins Here!
I've Never FELT MORE FREE